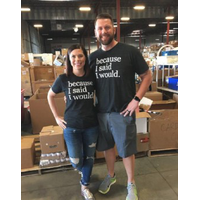 When you simplify your life, you are able to focus on your goals and the things that are most meaningful to you. Whether it means decluttering your closet, giving up a bad habit, or reevaluating your calendar, life simplification can make a big difference in reaching your goals.


To help members get better at sorting through life's clutter, they learned more about simplifying their schedules and eliminating certain items or activities that do not align with their top priorities. Then, they performed an interactive, group exercise.

Want to try it for yourself? Download our "Life Simplification" exercise sheets below. .

CLICK HERE TO VIEW THE LIFE SIMPLIFICATION EXERCISE
"Autism"

In honor of April being Autism Awareness month, this month's promise story tells the story of one of our supporter's whose own life was affected by autism.

As a father whose son was diagnosed with Autism, Mike made a life changing promise to help. Watch his video now to see the promise and action Mike took to help his son and all children affected by autism.

CLICK HERE TO WATCH "AUTISM" VIDEO

This video is part of a series of promise stories from the lives of everyday people. We believe a video can convince people around the world to make a promise to better humanity. We believe this series, titled "A promise story," will inspire our followers to share their stories with us.

Looking for our other 90+ videos? CLICK HERE








Thank you to everyone who came out for our April Monthly Meetup! The discussion was great and we were happy to see 7 new faces at the Meetup as well as all of our returning members!

Congratulations to Jennifer and David, who were the lucky winners of our Autism Speaks Bluetooth speakers. We would also like to recognize and congratulate Jennifer for receiving her 2nd Meetup Achievement badge! Thank you for your commitment!



March Unified Promise Success: Delivering Health and Hope to the World

Project C.U.R.E. was founded in 1987 to help meet the need for medical supplies, equipment and services around the world.

Project C.U.R.E. has delivered medical relief to needy people in more than 120 countries.

On March 18th, seventeen of our Chapter members came together to sort medical supplies, along the way delivering health and hope to the world. Two to three cargo containers of life-saving aid leave Project C.U.R.E.'s warehouses every week, and our Chapter members were part of making that possible.

A special thank you to all of our volunteers who attended this impactful Unified Promise, as well as to Project C.U.R.E. for the behind the scenes tour given to our Chapter members to learn more about their life saving work. Thank you for all you do in our community and around the world. Check out photos from the event below!
Carrying the Weight of Autism Together

According to the Center for Disease Control, 1 in 68 children are identified with Autism Spectrum Disorder.

The world that children with autism inhabit isn't just indescribable; in many ways it's unknowable. Sensory sensitivity is just one battle children with autism may face every day, which makes it hard to process sensory information like sights, sounds, or touch.


Fortunately something as simple as a weighted textured pad can be a calming tool to ease stress and anxiety for an autistic mind.The feeling of gentle weight on the body, called Deep Touch Pressure, is a safe and effective non-drug therapy. Studies have shown the benefit of these pads for autistic children in the classroom, providing better in-seat behavior by calming the nervous system.

Please join us for our April Unified Promise as we make sensory weighted lap pads to help children with autism in our community. We need committed volunteers to join us on April 20th from 6:30 PM to 8:30 PM at Daniel's Fund for this promise.Supplies and instructions will be provided- all you need to bring is yourself! This Unified Promise is in support of the Edna and John W. Mosley P-8 School based in Aurora. We hope to see you there!

RSVP FOR THE APRIL UNIFIED PROMISE
Needed: Denver Leadership Team

We are still looking for volunteers to help fill three open leadership positions for the Denver Chapter of because I said I would.

See open positions and responsibilities below!




Collect content for the local Chapter & Unified Promises

Determine best practices

Capture Chapter members' individual promise stories

Promote chapter through partnerships

Manage social media page

Event marketing

Pick up food and supplies

Arrange for printed materials

Meeting set up

Event coordination
---